Sidebar
PSP Ranga Davenport Fountain Pen - Premium Stripes Acrylic, JoWo Nibs, Cartridge/Converter (PSP Exclusive)
Pen Type

SKU:

17123-AS

Availability:

Next day shipping, excluding weekends and holidays.
PSP Ranga Davenport Fountain Pen - Premium Stripes Acrylic, JoWo Nibs, Cartridge/Converter (PSP Exclusive)
SKU: 17123-AS
Type Handmade fountain pen with a PSP exclusive design.
Product Name Davenport, takes screw-in German nib units.
Manufacturer and Year PSP and Ranga Pen Company, India -- 2019
Measurements Length About 5-1/2" capped and about 5-5/8" posted. The lengths are approximated because there is some length variation due to being handmade.
Filling System International style cartridges and converters. The pen has been configured to accept a screw-in German nib unit which works with international style cartirdges and converters. A converter will be included.
In addition, the converter can be removed so that you can use the pen as an eyedropper. This type of pen is sometimes referred to as a 3-in-1 filler for cartridge/converter/eyedropper.
Color We have these in a few different striped acrylic patterns, and we'll add more over time.
We'll also give you the option of a silver or gold colored clip.
Nib You have a choice of nibs. The pen is fitted with a German screw-in nib unit made by JoWo which has standard JoWo #6 housing. We offer this nib set-up with steel JoWo nibs. The base price is for the steel nibs, and you'll see the additional amounts in the pull-down menu for the other options:
- polished steel nibs (check the drop-down menu for availability of two-tone and gold-tone finishes)
- nib sizes in XF, Fine, Medium, Broad, 1.1mm and 1.5mm.
- some of the two tone nib sizes are getting hard to obtain, so we may have to switch you to a single tone gold nib.
See writing sample for the standard JoWo #6 nibs below.
Condition Brand new, never used. New converter.
PREMIUM STRIPED ACRYLICS
(left to right: Red Gold Stripes, White Black Stripes, Olive Purple Stripes, Green Stripes, Blue Stripes, Blue Pink Stripes, Brown Stripes)
Red Gold Stripes:
White Black Stripes:
Olive Purple Stripes:
Green Stripes:
Blue Stripes:
Blue Pink Stripes:
Brown Stripes: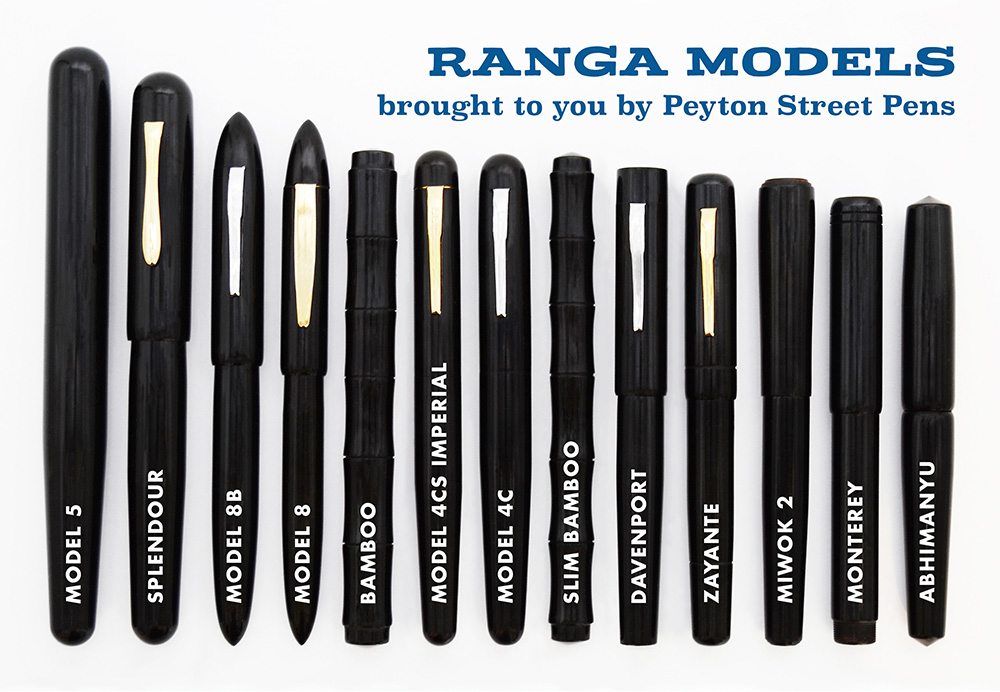 Filling system is warranted for one year from purchase date.