Well, it's been a long time coming, but two nib makers have finally been able to come up with a flexible steel nib. We carry both nibs, and will try to differentiate their features and qualities in this post so that customers have more data to fuel their decision, because there is a major price difference.
JoWo #6 Flexible Steel Nibs
This nib has only recently become available widely. Made by JoWo based on their standard #6 feed and housing, the polished steel nibs feature curvy cut-outs and come in fine and extra fine.
We tested an extra fine nib in the above video. We found these to be very good nibs for users just getting started with flex. You get nice line variation from extra fine to medium. (Bear in mind this is a JoWo extra fine, which does not produce hairlines.) The nib flexes well with an average amount of pressure, and the spring back is good. The nib we tested was very smooth. Though the feed is plastic, and not ebonite like the Flexible Nib Factory flex nib, the ink flow was good and we did not experience any railroading.
We will be adding these nibs to our regular nib selection pull down menu for Ranga, Lotus and other pens that accept standard JoWo #6 nibs. They will only add an extra $10 to the cost of the pen, and JoWo is to be congratulated on delivering a product that users have been clamoring for at a surprisingly modest price.
Now, if only JoWo could turn its attention to making a #8 steel nib .... but that's another story!
Flexible Nib Factory #6 Nibs
These nibs have been available for over a year, but there were shortages and we only recently got a good stock of them in the shop. They are two tone nibs with a swooping cutout on each side. One notable benefit of these FNF nibs is that they come with one of the company's well regarded ebonite feeds.
The nib we tested was labelled as an extra fine, and it produced a slightly finer line than the extra fine flex nib from JoWo. This nib does a credible job with flex, and comes closer to the experience of vintage flex nibs. You get a finer starting line width, and it goes as wide as broad or better, so the range of line variation is better. The "feel" is very similar to the JoWo nib in terms of pressure applied, and while it achieves better flex it is not notably softer feeling. Like the JoWo nib, it was smooth and had good spring back.
These nibs are for sale individually on the web site, priced at $60. You'll find them here.
Here are the writing samples, side by side: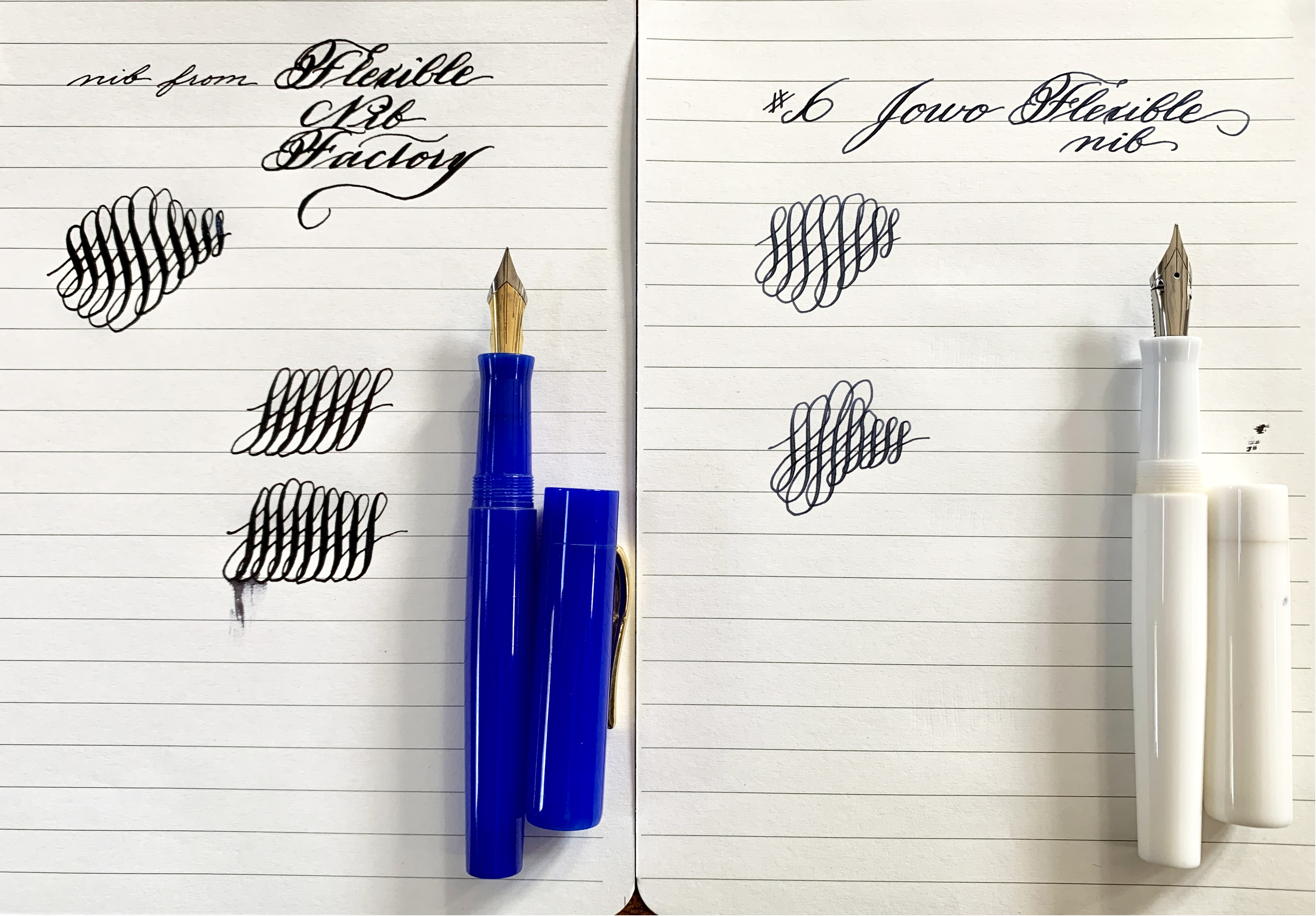 The JoWo nib is on the left, the Flexible Nib Factory nib is on the right in the photos below.