Here's an introduction to the changes on the Peyton Street Pens web site.
Why did the web site change?
Our old ecommerce software (Magento) platform was purchased by Adobe last year, and the simple version that we were on has stopped being supported. That means no new features, but more importantly, no big fixes and upgrades to the security technology that will prevent various kinds of attacks. We were on borrowed time!
What is staying the same ....
Our product catalog has been copied over the to the new web site, including listings that have been sold. If you have a link to an old listing, it should still work fine.
Our list of categories is the same with only a few small changes. Instead of a horizonal category list across the screen, you'll see our categories along the left side. We're saving the horizontal space for informational content such as our pen reference pages, this blog, store policies, etc.
Customer accounts have been copied over, with a few limitations that we hope will not prove to be too inconvenient.
You'll need to reset your password.
Unfortunately, it was prohibitively costly to migrate old orders and wish lists.
Coupons counts have been reset, so even if you've used a coupon to its maximum number of times, as long as it has not expired you can start using it again.
You'll note some changes ....
We would not go so far as to call these improvements, but they are changes.
Our free domestic shipping threshold has been raised to $40, so if your order is $40 or less you'll no longer get free shipping, but you will have a choice of inexpensive first class shipping.
RSS feeds are no longer offered.
New features ....
The new ecommerce platform is Big Commerce and it comes with some nice enhancements:
Store credits
Gift certificates
Integrated Blog
Illustrated sub-category presentation (see photo 1 below)
It'll be more obvious when you are looking at a listing that has been sold (see photo 2 below)
We hope you enjoy exploring the new presentation of our pens!
TERI AND THE PSP CREW
Photo 1 - Illustrated categories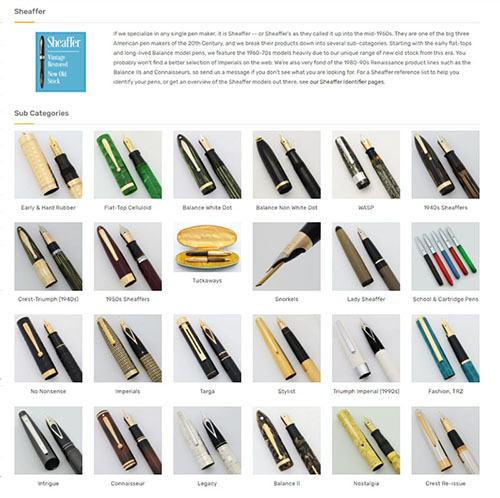 Photo 2 - Sold products