Product Description
Type Fountain pen
Product Name Paragon (oversized) Arte Italiana (dodecagonal - 12 facets) Precious Facets (refers to the sterling cap)
Manufacturer and Year Omas, Italy (1990s)
Length 5-5/8"
Filling System Piston filler. Tested and working well.
Nib 18k Medium nib. As you can see from the photos, the masking was rather thickly applied and not very precisely! We've polished the nib after taking the photos and it mellowed considerably and doesn't look orange.
Color This pen has a beautiful 12-faceted black resin body with a sterling silver cap, gold trim.
Condition New old stock condition, discounted due to some damage picked up in storage, but completely usable. In box with paperwork and white pen sleeve. This is a shiny, impressive, elegant pen that is beautifully crafted. The barrel has some scratches picked up in storage. The sterling silver cap has some impressions near the band that appear to be toolmarks from the manufacturing or polishing process. The lip edge of the cap band has a lot of fine pitting. There is a scratch above the cap band on the cap. The Greek key pattern on both the cap and section are crisp and clean. The box has definitly seen better days -- the leatherette/faux leather is fragile and flaking. The imprints are clear.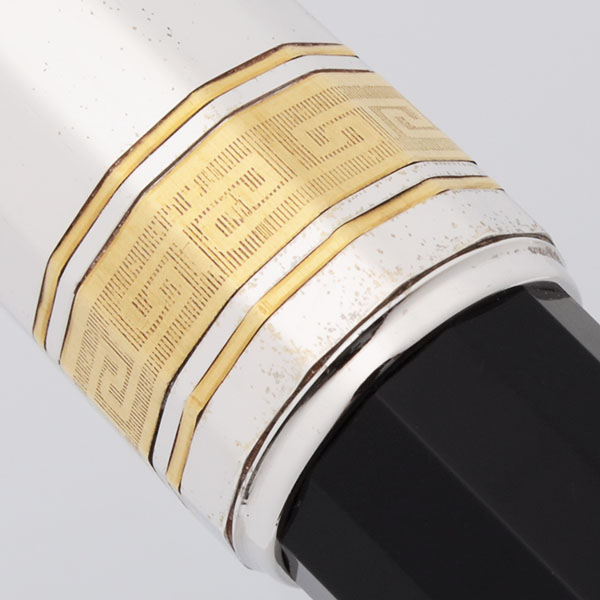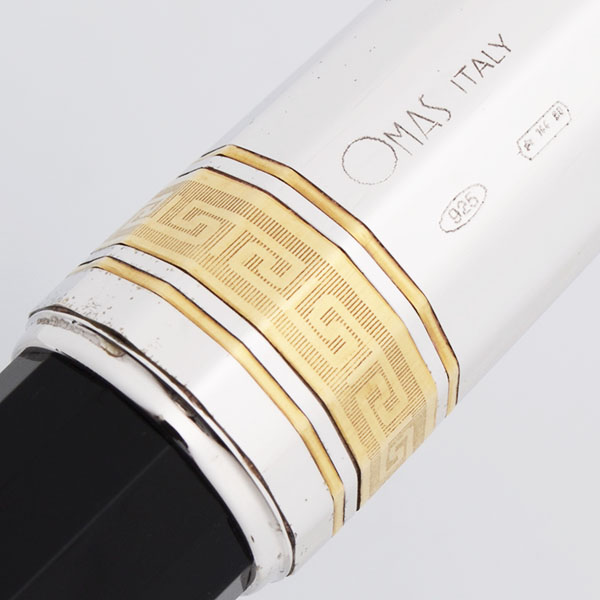 Product Videos
Custom Field
Product Reviews